DISCOVER OUR NEW VIRTUAL INTERNSHIPS PROGRAM! LEARN MORE
Internships in Sydney
What can Sydney offer you during your internship?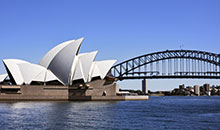 If you are based in Sydney, there are heaps of things to do & see.
Walk The Rocks the area that was first settled in Australia in 1788. Nearby is the famous Opera House, the Harbour Bridge, (which you can climb), the Botanical Gardens, & the Art Gallery. Travel by bus or train north south or east & you can enjoy sensational white sandy beaches & the blue Pacific Ocean. In summer you can see the amazing start of the Sydney to Hobart yacht race, the best New Year's eve fireworks in the world, surf carnivals, the Australia Day Festival, the Gay Mardi Gras, or the Summer Music Festival. In May you can see Fashion Week, in August the 80,000 City to Surf run, or at anytime you can take a ferry ride on the spectacular Sydney Harbour to Manly or the wonderful, scenic Zoo to see native animals up close.
Set by the coast, one hour to the south of Sydney, is the beautiful Royal National Park & two hours further is stunning Jervis Bay. Two hours to the west are the heritage listed Blue Mountains. Three hours to the north is the lovely wine area of the Hunter Valley, & further north in Tamworth, is the Country Music Festival in January – great fun.
Apply Now for internships in Sydney

Internships in Sydney