DISCOVER OUR NEW VIRTUAL INTERNSHIPS PROGRAM! LEARN MORE
Internships in Gold Coast
What can Gold Coast offer you during your internship?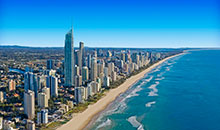 The Gold Coast is known for its beautiful 52 km stretching coastline. The natural beauty, relaxed lifestyle make The Gold Coast one of the most unique cities in Australia to live, work and intern.
The Gold Coast is a famous tourism destination. Every year 12 million tourists visit the city, which contributes to city's booming economy. It's the sixth largest city in Australia, and the country's biggest non-capital city. The Gold Coast hosts many national and international events and is the host of the 2018 Commonwealth Games.
With a lot of stylish pubs, clubs and lounge bars on offer, The Gold Coast is a very attractive destination. Not only because of the nightlife, but also because of the weather. Gold Coast averages 245 days of fine and sunny weather!
Did you know that The Gold Coast also has the tallest building in Australia?
Apply Now for internships in Gold Coast

Internships in Gold Coast