DISCOVER OUR NEW VIRTUAL INTERNSHIPS PROGRAM! LEARN MORE
Internships in Brisbane
What can Brisbane offer you during your internship?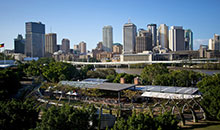 Luckily Brisbane is only one hour from the Gold Coast (named after its golden beaches), because this really doubles the things to see & do in this lovely, warm climate.
You can bicycle around "Brissie", watch the surf carnivals, the Cooly Classic Ocean Swim, the Summer Music Festival, the Native Laura Dance Festival, the Dreaming Festival, the Brisbane Festival, or just walk the endless beaches.
Travel further to see beautiful Byron Bay, sub-tropical Lamington National Park, pretty Noosa, the Whitsunday Islands, Frazer Island, the Darling Downs, or Cairns to see the lovely tropical Daintree Forest & of course the famous Barrier Reef.
Apply Now for internships in Brisbane

Internships in Brisbane