DISCOVER OUR NEW VIRTUAL INTERNSHIPS PROGRAM! LEARN MORE
Internships in Australia
What can Australia offer you during your internship?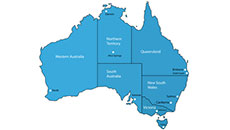 Your once in a life-time internship is not only an opportunity to further your education & knowledge of your chosen field, but also a chance to enjoy a different country.
Australia can fulfil both these criteria like no other place.
Whether you choose Perth with its great climate & beaches, Adelaide with its wineries & outback, Melbourne with its cafes & shopping, Brisbane with its parks & weather, or Sydney with its harbour & beaches, you will experience a unique & unforgettable time.
Only just over 200 years old, Australia can boast of a great lifestyle, including progressive industry, a safe environment, a multi-cultural population, great weather, amazing scenery & the best beaches in the world. Just think about it – Australia is about the size of the USA with only 10% of the population.
So if you want to do a worthwhile internship that will please your parents, your university & yourself the decision is easy, logical & a little adventurous….come Down Under to Australia.
Apply Now for internships in Australia

Internships in Australia