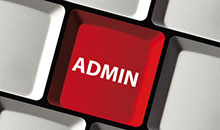 This may involve the helping to design & manage efficient systems, staff levels, office design, staff duties, financial allocations, computer systems, liaising between management & staff, organising schedules, & just making sure a business runs as it should.
We have previously placed Administration candidates in Sydney, Melbourne, Brisbane, Gold Coast, Perth & Adelaide
All our Administration internships are voluntary/unpaid as they focus on supervision & training to benefit you, NOT on photocopying and making coffee. The internship will assist you in taking a big step towards your dream career.
Our Administration internship start dates are flexible. We have students starting internships almost every Monday of the year (except in December and the first week of January).
Yes. We can arrange internships to meet your graduation requirements. These commonly involve an assignment topic or thesis subject.
If you send us your University requirements in order to gain credit for the internship then we will make sure to arrange a placement which meets these requirements.
Yes, like almost everything in the world today there is a cost involved. Our fees will be sent to you once you have completed the enquiry form.